About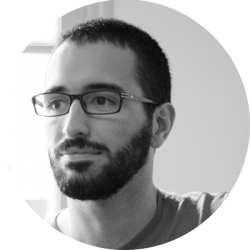 About me
My name is Simon Bats and I'm a french developer with a background in design and user experience. My main field is front-end development and interfaces implementation. I love working on desktop and mobile web applications. However, I'm also interested in back-end development and tend to learn more and more about it ! I spend also time looking at last design trends and user experiences discovery. I believe in interfaces if they're intuitive and user-friendly. Nothing worse than a powerful tool impossible to use !
I try to travel a lot because it's in my opinion  what gives someone an open mind and a new look on everyday's things. I've been lucky enough to spend time in wonderful places like Canada, Australia, USA, Cuba, or Italia. That's for the same purpose that I strongly believe in open source.
Another thing to know about me, I love music and it's an important part of my life. I play various instruments even if guitar and singing will always be my first loves ! You can listen to some of my SoundCloud or Youtube if you like. Used to be in a band, but development won over it.
Also a great fan of video games in general. I'm as much interested in playing than in analyzing game design, pixel art, digital painting, music, and development. Still no projects to show for this field, but it's growing ! Played a bit with Unity and GameMaker from time to time, and some pixel-arts occasionally.
Skills
Languages










Frameworks, libraries & CMS










Tooling
Git
Webpack
Gulp
Grunt
Browserify
PostCSS
Semantics
XITI
Patterns & methods
Object Oriented Programming
MVC
Flux
Functional Programming
Progressive apps
REST
Automated tests
Agile methods
Softwares
Photoshop
Illustrator
InDesign
After Effect
Adobe Premiere
Logic studio
Unix systems (Arch Linux, Ubuntu, OSX)
Windows systems
Resume
If you'd like, you can download my pdf resume.